When Is a Naked Man Photo a Naked Man Photo for Women?
Sounds like a dumb question? Well, it's not really. So many adult sites on the internet are for men, and this is also the case when it comes to sites featuring naked men. The vast majority are aimed at gay men, not women. And even sites that are supposedly created for women just feature gay photos and advertisements.
Why? Well, the standard view is that "women don't like porn". Most adult site operators don't believe that women enjoy looking at photos of naked men - or any kind of sexually explicit material at all. Hence the proliferation of naked men sites that cater only to gay men.
Even typing in "naked straight men" doesn't necessarily help. The naked men may well be straight, but it's still presented for gays, and so you get all those open bum and leather pics that we just don't want.
So when is a naked man a "naked man for women"? My criteria follow these lines: they have to look straight. This means he's not wearing leather chaps or collars, there's no rainbow flags anywhere, and he doesn't look gay. I realise that's stereotypical, but it can't be helped. More importantly, he's not holding his butt cheeks apart. This is extremely offputting to heterosexual women. We're not interested in his asshole. We want cock!!
Some of the things I personally find sexy are half-revealed cocks in boxers, smouldering looks, costumes (like cowboys, firemen etc), ripped jeans, muscular torso (but not TOO heavily built), pert butts (not open!), and long dicks. And if I like these things, I can assume that some other women will like them too.

There are a growing number of sites that feature naked men photos for women. These are specially-created women's erotica sites that have selected the best looking naked men pictures and weeded out the gay stuff. Chief among these is For The Girls, a women's ezine with plenty of naked male centerfolds.
Advertisement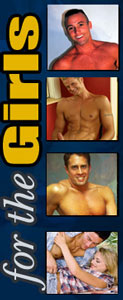 Naked men at For The Girls Ezine and Erotica for Women