Puppetry of the Penis
In 1996, Australian Simon Morley had the bright idea of creating an amusing calendar featuring photos of his penis being bent into strange shapes. He soon met with fellow "dick tricker" David Friend and the two went began to put on live shows, partly to help sell calendars.
After becoming a huge hit at the 1998 Melbourne International Comedy Festival the pair went on tour together in 1997 performing their "penis installations" to live audiences across the country.
Their adventures were recorded in the documentary Tackle Happy and dissected in detail on national radio.
The dynamic duo then performed at the 2000 Edinburgh Fringe Festival and became an "overnight success." Before long they were performing at London's presitgious West End theatres and were the toast of the town.
Their show opened in New York in 2001 to rave reviews. They soon had several franchise shows running in Germany, the U.K., Eire, New Zealand, Canada, The Netherlands, Italy, Portugal, Switzerland and Australia. Special auditions were held to find men with just the right penile talent and a devil-may-care attitude to public nudity.
Thanks to the fact that their performance involves two naked men manipulating their genitals onstage, Puppetry of the Penis has encountered numerous attempts at censorship, especially in the US. This has actually helped to make them more popular.
At time of writing, Morley and Friend have been reunited in a tour of Australia.
News Articles
Twists and Turns - Adelaide Advertiser
For Members Only - The Globe and Mail
Witness the Alternative to Hand Puppets - Canada.com
Websites
Advertisement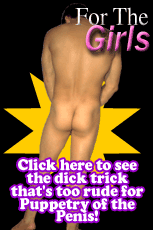 For The Girls features not one but two separate interviews with the guys from Puppetry of the Penis.
This includes exclusive photos of the dick trick that was too rude to perform on stage!
For The Girls is a women's erotica site featuring thousands of pics of naked men and couples, movies and erotic fiction.
It also offers an entire women's magazine including three years worth of archived material!
Click here for a free sneak preview!